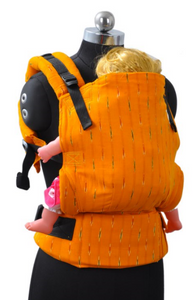 Standard Wrap Converted Soft Structured Carrier - Soothing Sunshine
Regular price $135.00 $135.00 Sale
Make loving a baby easy and feel great!
This innovative and awesomely adjustable Carrier is available in a range of colors and designs that you will be proud to flaunt. At EasyFeel, each carrier is checked and double checked to ensure that you can enjoy freedom without worrying about your baby's safety. 
Suitable for kids 7 kgs to 20 kgs
100% Cotton Ikat fabric which is very light weight yet very sturdy & breathable.
Suitable for front & back carry
Adjustable shoulders straps, waistband, and chest clip
Personal Fit Adjusters 
Elastic bands keep excess strap length neat and tidy
Includes a front pocket for on-the-go storage 
Storable Sleep Hood
High quality buckles for safe babywearing experience.
Extra padding around leg-opening for baby's comfort.
Supportive shoulder padding for your optimal comfort.
Easy to care for and machine washable.
#EasyFeelStandard #EasyFeelProducts